NIXIE Clocks
We have just put the finishing touches on the first of these beautiful nixie clocks. They utilise old Russian "NIXIE tubes" which were used up until the 70's or 80's as counters and displays on all sorts of machinery from calculators to space shuttles. These tubes are no longer made and are becoming quite difficult to obtain. These tubes are new old stock and came from old military stores in the Ukrain where they have been sitting in their original boxes for the last 30 years or so.
The clock picture below is the first one off the production line. The bases for these clocks are CNC machined from a single piece of Red Gum, which is one of Australia's many beautiful timbers. They are then hand sanded and given a clear satin finish that enhances the natural beauty of the timber.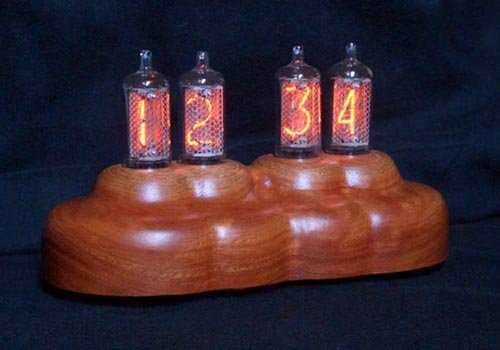 Underneath a solid brass plate covers the electronics inside. These plates are CNC machined and engraved and each clock is individually numbered.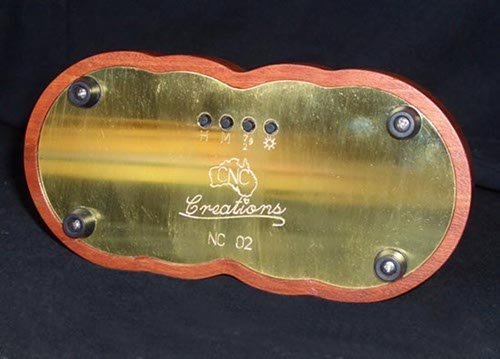 These clocks combine the elegance and beauty of the old nixie tubes with beautiful timbers and polished brass to create a stylish timepiece that is sure to impress. Inside however state of the art, surface mount components, microcontrollers and dedicated real time clock chips make these clocks accurate and reliable, create a user friendly interface and provide a few nice features.
Features
Timeless design, sure to become a collectors item!
Solid 1-piece wooden base, CNC machined from quality Australian timber and hand finished
Brass bottom cover, CNC machined and engraved
Each clock individually numbered (1 to 25)
4 large digit IN8-2 Russian nixie tubes (HH MM)
12 hour time
Dimming feature
Dedicated real time clock chip for accuracy
Slot machine effect: When time changes, all the digits start spinning and one by one stop on the new time. This can be set to occur every minute, 10 minutes, hour or 12 hours.
4 button, easy to use, user interface (hours set, minutes set, dimming, slot machine effect).
High capacity backup capacitor. Will keep the time for more than 5 hours in case of power failure and never needs replacing!
High quality circuit boards utilising surface mount technology
Clocks guaranteed for 1 year against manufacturing faults and tube burnout
These first few of these clocks are complete! If you are interested in purchasing one of these clocks get in early to avoid disappointment! There will be an extremely limited number of these nixie clocks! Check out ebay to purchase one of these clocks now!
We recommend the purchase of at least a couple of spare tubes with your clock. The tubes should last for many years but they are going to get increasingly hard to get and it is worthwhile having a couple of spares on hand in case of breakage.
Customer Review
One of our customers offered to write a review about the nixie clock he purchased so here it is:
I am absolutely thrilled with my Nixie Clock. It has been ticking away like a trooper -- accurate timekeeping, which can be an issue with devices like this, has been flawless. The design is more interesting than some of the 'shoebox' designs out there, and the quality of the machining is second to none. Thank you for the new centrepiece of my living room. If I had cause to buy a second one, I would do so in a flash!

– Tim, UK
Price List
| Product | Price | Postage (Aus) |
| --- | --- | --- |
| Nixie Clock | AU$500 | AU$30 |
| 1 Spare NIXIE Tube with raiser | AU$40 | Free with purchase of clock |
To purchase any of these products simply send us an email to sales@cnccreations.com.au stating what you would like to buy and your address. We will send you back an email with postage costs and payment instructions.
Note for International Customers
Clocks shipped in Australia come complete with 9V DC 500mA adapter. For international customers we will ship the clocks with the correct dc plug but without the adapter. This is because mains voltages vary from country to country. The 9V adapters are easily available from your local electrical store; Radioshack, Dick Smith etc. If you need help locating a suitable plug pack we are more than willing to help.